About Judy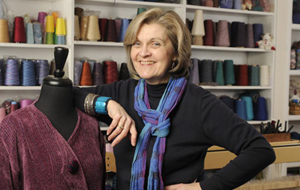 My mother used to tell me that when I was a very little girl I loved to run the satin edge of the blanket through my fingers and toes to feel the smooth, cool texture. As I got older, I would work with satin ribbon, make rosettes and sew them onto a wider ribbon and sell them as headbands. By the time I was 10 I was making potholders in varied colors and designs and selling them. I still use some of those potholders today.
This early start with fabrics and color developed in later years into a love of textiles and design which led me to a degree in Education and teaching Home Economics. My love for textiles and design was further enhanced and enriched when I learned how to weave.
My technical and creative endeavors in the field of weaving and fiber art have been guided and nurtured by a strong involvement in the guild system. Working with fiber art has offered me an opportunity to always learn something new.
My work is exhibited in fine craft shows, community art centers, and fine craft galleries. It has received awards at various exhibits and shows. I am a Master Artisan Member of the Pennsylvania Guild of Craftsmen.
I consider myself fortunate to be able to work at something I love and hope that my work gives pleasure and enjoyment to those who wear it.